Lizzie Armitstead's rise to Olympic glory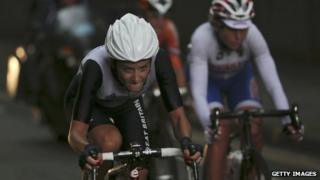 It was a visit from Team GB to her school in West Yorkshire when she was a teenager that first inspired Lizzie Armitstead to start cycling.
Her PE teacher at Prince Henry's Grammar School in Otley invited British Cycling's Olympic Talent to talk to pupils and Armitstead was among those singled out as having potential.
Since then it has been a meteoric rise for the 23-year-old, who on Sunday won Team GB's first medal of London 2012 when she took silver in the cycling road race.
She has won medals at junior and senior levels, but described winning the Olympic silver as "the best day of my life".
Armitstead's family had travelled to London to cheer her home along the Mall. Her mother Carol Armitstead said: "It is more than we could have hoped for."
Alongside her was Armitstead's grandmother Majorie Dunn who sported a T-shirt with "I'm Lizzie's Grandma" emblazoned across the front.
"A granddaughter who is an Olympian is something very, very special," she said.
Armitstead was beaten to the gold at the end of the 140km (87 miles) race by Holland's Marianne Vos in a sprint finish.
She said: "I'm really, really happy. Maybe later I'll start thinking about that gold, but I'm happy with silver at the moment."
She later tweeted : "The best day of my life! Thank you to the thousands of people cheering who literally got me to the finish line, I'm incredibly proud of GB!"
In her home town of Otley Olympic flags lined the High Street.
Next-door neighbour Anthony Middlemiss said: "She's trained hard, has the lass, so well done to her."
While Ian Stephens said: "It means a terrific amount to Otley. Lizzie is very important, she has done well to get a medal today."
Peter Middlebrooke, of Otley Cycle Club, said Armitstead had competed several times in the National Circuit Race through the town centre, which was set up by the club.
He said: "She didn't take part in the last one because, obviously, she couldn't risk anything happening to her.
"At the time we thought it was a bit disappointing. But I'd have swapped seeing her there to see her win a medal any day.
"You never think an Olympic medallist will come from your town.
"We thought it was a great achievement for her just to compete. We never dreamed she'd be at the finish with a medal.
"Whether it's sunk in yet with Lizzie I don't know. I think it'll take her quite a while.
"As a club, and I'm sure as a town, we'll recognise this massive achievement somehow."