Former Bradford West MP Marsha Singh's funeral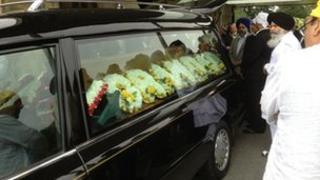 A funeral has been held for a former Bradford West MP who died four months after resigning his seat in March due to ill health.
Former Labour MP Marsha Singh, 57, served as a ministerial aide and worked on the Home Affairs Committee, having first been elected in 1997.
The service at Scholemoor Crematorium was relayed to crowds outside.
A message from Labour leader Ed Miliband read out at the funeral described Mr Singh as a "great man".
He said he would be missed in the House of Commons.
Respect's George Galloway won the resulting by-election following his resignation, overturning Labour's almost 6,000 majority.
Mr Singh's seat had been in Labour hands since 1974, except for a brief period in the 1980s when the then sitting MP defected to the SDP.
Mr Singh grew up in Bradford and leaves two children and two stepchildren.