Chief Inspector of Prisons 'fears' for Wetherby young offenders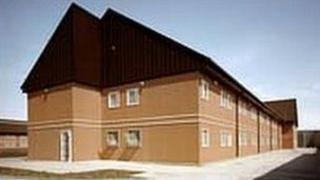 The chief inspector of prisons has expressed concerns over "vulnerable" boys held at Wetherby Young Offenders Institution.
The prison housed about 340 boys, most aged between 16 and 17, when it was inspected in January.
The inspector, Nick Hardwick, praised the care offered but said there were weaknesses to be tackled and he feared for some of the boys held.
Officials welcomed the report and said it would help improve their work.
Mr Hardwick related how one boy with a lifelong medical condition asked tearfully to be taken home to his mother.
Another boy, described as being low, lay on his bed not speaking.
"Walking round the establishment, the vulnerability of some of the young people held was obvious," Mr Hardwick said.
'Challenging population'
He added: "All these boys were receiving good attention and care, but you feared for them all."
Just days before the inspection, two boys had died elsewhere in custody.
In April 2011, Ryan Clark, 17, was found hanging in his cell at Wetherby, where he was being held on remand.
Mr Hardwick said while the prison provided "reasonably good outcomes" for most young people overall, there were weaknesses which needed to be tackled.
"The greatest concern was the vulnerability of some of the young people held and the difficulty of holding them safely in a large establishment with a wide spread of population a long way from home," Mr Hardwick added.
Michael Spurr, chief executive of the National Offender Management Service, said: "I am pleased that the chief inspector recognises the positive work being done at Wetherby with a challenging population of young people.
"The governor and her staff are rightly commended for their care and commitment and they will use the recommendations from the report to further improve and develop the work at Wetherby."