Buildings damaged in flash floods in West Yorkshire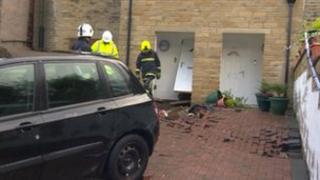 A number of people were rescued by fire crews after flash flooding hit West Yorkshire on Sunday.
West Yorkshire Fire and Rescue Service said one person was rescued after flood water demolished an internal wall and destroyed surrounding pavements at a house in Frizinghall, Bradford.
In another incident 10 apartments were evacuated after a basement flat was flooded in Manningham, Bradford.
There were also reports of large hail stones falling in the area.
The fire service said it received 65 flood related calls between 16:00 and 21:00 BST on Sunday.