Clare Teal's big band: Members chosen after auditions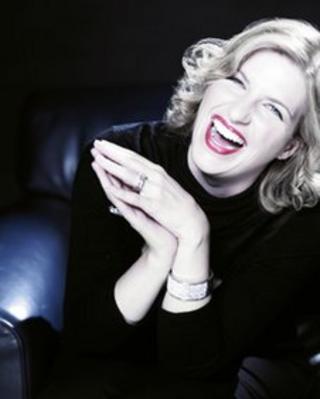 A cancer sufferer in remission, a tax accountant, school children and a former musical director on the QE2 are among musicians chosen to play in a community big band with jazz musician Clare Teal.
The big band's public performances at Leeds Town Hall will raise money for BBC Children in Need and be recorded by BBC Radio Leeds.
The 18 members were chosen after auditions at the Leeds College of Music.
They are a mix of ages, backgrounds and experiences but all have some musical ability.
Ms Teal, an acclaimed jazz singer, musician and BBC Radio 2 presenter, who was born in Kildwick near Keighley, is returning to her Yorkshire roots to build the band.
Her challenge is to bring the players together to make a great sound in time for the performances.
The process is being followed by BBC Radio Leeds through to the live shows.
All band members will have to perform in a Children in Need concert at the 1,200-seat Leeds Town Hall on the evening of Tuesday 30 October and live on Children in Need night on Friday 16 November.
They are:
Christopher Adsett, 14, who will play the tenor saxophone. A pupil at Beckfoot School, Bingley, he is a member of the Bradford Youth Wind Orchestra and a jazz quintet.
Emma Johnson, 19, who will also play the tenor sax. Miss Johnson is studying for a degree in jazz saxophone and has played in orchestras and bands.
Martin Landells, a chartered tax adviser, who will play the baritone sax. He is a member of Leeds Jazz Orchestra and says of himself: "Boring tax accountant during the day, exciting sax player at night! Well, the first part is true at least!"
Morgan Fry, from Leeds, who is playing the alto sax. He studied music at Fullerton College in California and has worked on cruise lines. He was a musical director on the QE2 and Queen Mary 2.
Lizzie Rogozinski, 16, who is playing the baritone sax. She is a member of Leeds Youth Jazz Rock Orchestra and was the lead flute in her school's production of The Sound of Music.
Plumber Glenn Crisp, 49, who is playing the trumpet. He has played with Clifton and Lightcliffe Band and Brighouse and Rastrick Band and was part of the 'Floral Dance' band performing on Top of the Pops with Sir Jimmy Savile.
Chris Williamson, 17, who will play the trumpet. He is working towards a diploma and has played at the Royal Albert Hall.
John Thompson, who will play the trumpet. He played in several youth wind bands and jazz ensembles and has played with the Garforth Brass Band on cornet for the last few years.
Neil Jowett, who runs his own house building and contracting company, will play the trumpet. He played cornet for the Slaithwaite and Linthwaite bands, was a member of the national Youth Brass Band of Great Britain and during the 70s and 80s he was a member of the cornet section of Black Dyke Mills Band.
Jude Abbott, who will play the trumpet. She has spent the past 16 years making a living out of playing music and describes herself as an "accidental pop star and big band enthusiast".
Peter New, who is studying for A-level exams and applying to begin a full-time jazz course, will play the trombone. He plays in a wide variety of ensembles including the Leeds Youth Jazz Rock Orchestra, The Syd Alan Big Band and The City of Leeds Youth Orchestra.
Paul Mayo, who lives in Harrogate and created the Aunt Bessie food brand, will play the trombone. During his time with the HM Life Guard's Band Trombone section he played a variety of musical events from palace garden parties to a jazz festival in Berlin. Mr Mayo was diagnosed with cancer in May 2008 and is in remission.
Steve Mosley, 51, a casino manager from Leeds, who will play the trombone. He attended Leeds College of Music and has been in big bands led by John Brown and Tony Faulkner.
Scott Stockdale, 16, from Knaresborough, who will play the trombone. He has played in Knaresborough Silver Band for four years. His main passion in life is sport but loves performing.
Jack Amblin, who will play the rhythm drums. Originally from South Wales, he is now living in Leeds. He has been part of various pop bands from a young age, as well as playing in orchestras, wind bands, brass bands and big bands for numerous years in Wales.
Scott Nelson, who relocated to Leeds in 2010 to study at the College of Music, will play the rhythm guitar. He first picked up a guitar at the age of 11. He said: "I quickly became enraptured in the instrument and it has firmly been my foremost passion since then."
Isis Dunthorpe, 14, will play rhythm percussion. She plays percussion for the Yorkshire Youth Brass Band and for the pit band for Fiddler on the Roof at the Grand Opera House in York.
Emily-Grace Clifton, 16, from Newmillerdam, Wakefield, will play the rhythm piano. She was accepted into Yorkshire Young Musicians in 2010. She said: "I love music and particularly enjoy playing to a live audience."