Shipley sewer scheme 'reduces flood risk'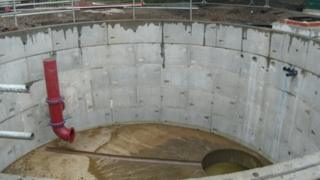 A new underground water tank in Shipley has reduced the risk of sewers flooding according to Yorkshire Water.
The 143,000 gallon (650,000 litre) tank near the junction of Bradford Road and Malborough road is part of a £950,000 sewer improvement project.
It collects storm water and holds it until sewer levels are back to normal.
The tank collected about 18,000 gallons (80,000 litres) during recent heavy rain that could have caused flooding, the company said.
The tank is made of concrete and has been covered and landscaped.
Work started on the project in December 2011.
The company has also improved sewers in the area and installed a new sewer overflow on Avondale Road.