Ivy Robinson care home abuse: Daughter warns other families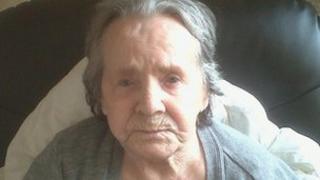 The daughter of an 89-year-old woman with dementia who was abused in a West Yorkshire care home has warned other families to be vigilant.
Care workers Emma Bryan and Katherine Wallis were sentenced at Leeds Crown Court on Wednesday for abusing Ivy Robinson at Oakfoss House Residential Care Home in Pontefract.
The abuse emerged after her worried family hid a CCTV camera in her room.
Daughter Angela Wood said she hoped it would help prevent other abuse cases.
Mrs Wood and husband Simon bought a CCTV camera hidden in an alarm clock after noticing bruises on her mother's arms.
She said they were "sick and horrified" when they watched the footage, which showed her mother being shaken and verbally abused.
"I just jumped. I couldn't get a hold of myself thinking this was happening. We didn't expect to see that at all, we just thought mum wasn't getting her drinks or being checked on."
The court was told Bryan and Wallis dragged Mrs Robinson across her bedroom floor which made her scream in pain before Wallis threatened her with violence.
The footage showed Bryan swearing at Mrs Robinson and calling her a "horrible old lady".
Bryan, 29, of Harewood Avenue, Pontefract, was jailed for four months after admitting five counts of wilful neglect or ill-treatment.
Wallis, of Rhyl Street, Featherstone, was given a 12-month community order after admitting one count of the same offence.
Mrs Wood said the abuse, which was filmed last November, had had a "big effect" on her mother.
"She's been really poorly... she's obviously a lot different to what she was.
"She keeps saying sorry. I keep telling her she's nothing to be sorry for and that really hurts."
She added: I hope it will keep other people on their toes. If you have concerns, raise them."