Majorca Ponzi fraud 'ripped apart' family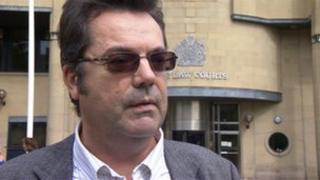 A father of two has described how his family was "ripped apart" after being left penniless by a fraudulent £10m investment scheme in Majorca.
Charles Dewey, from Somerset, said his family was "left with nothing" after losing £300,000 due to the scam.
A couple from West Yorkshire and a Dorset accountant have been jailed for their part in the Ponzi scheme.
Bradford Crown Court heard that instead of investing clients' money, the trio had used it to fund a luxury lifestyle.
John Hirst, 61, of Huddersfield Road, Brighouse, West Yorkshire, was jailed for nine years for his part in the Ponzi scheme.
His estranged wife, Linda Hirst, 61, of Woking, Surrey, will serve two-and-a-half years for money laundering.
Richard Pollett, 70, of Poole, Dorset, was jailed for six-and-a-half years. He was found guilty of conspiracy to defraud.
'Nasty lesson'
The court heard the Hirsts enjoyed luxury holidays and lavish wedding celebrations in Las Vegas and Majorca with the proceeds of the scheme.
Mr Dewey said he had moved with his young family to Majorca near where the fraudsters were operating their Ponzi scheme.
He said Hirst and Pollett had "marked" his family as soon as they arrived on the island.
After losing everything, his family had been left living on benefits, Mr Dewey said.
"It's had a huge effect on us really, it's made me doubt people from a trust point of view," he said.
"The destruction of trust is a very nasty lesson to learn aged 50, together with I'm now having to start life again like a student."
Mr Dewey highlighted Hirst as a man who had "ripped our lives apart".
The trio behind the scheme were "evil, evil people", said Mr Dewey.
"They've shown little or no remorse and I think the term they've got is a reflection on what they've done," he said.
While relieved that "justice had been brought to bear", Mr Dewey said he and his family would have to live with the consequences of the scam for the rest of their lives.