Easterly Road scheme 'reduces flood risk'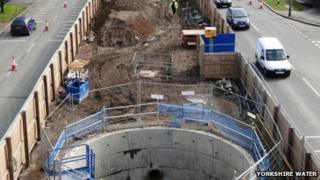 Five new underground water tanks in Leeds have reduced the risk of sewers flooding, according to Yorkshire Water.
The tanks are built to hold 440,000 gallons (2,000,000 litres) of water along Easterly Road in Gipton in Leeds and cost £3m, said the company.
The tanks collect storm water and hold it until sewer levels are back to normal.
The tanks are each 12m deep and are designed to stop flooding of the main road and protect nearby houses.
Work started on the project in September 2011.