Pakistan kidnap victim Malik Iqbal, of Bradford, killed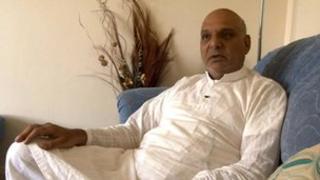 A British man has been murdered in Pakistan as he prepared to give evidence against a gang accused of kidnapping him last year.
Malik Iqbal has been described as a "determined and brave" by friends, following his death on Friday.
Mr Iqbal, 55, from Bradford, was killed when three masked men called at a house he was staying at, in Rawalpindi.
Former Bradford city councillor Riaz Ahmed said it was a "tragic case".
Mr Iqbal, who was held hostage for a month in September last year, was released when a £15,000 ransom was paid.
'Very determined'
The father-of-four returned to Pakistan in August to give evidence in the kidnapping trial.
He had originally been detained whilst visiting family in Rawalpindi, and kept in a shed on a farm.
He was held for 20 days, chained to a bed during his ordeal, being fed occasional tea and biscuits.
His friend, Mr Ahmed said: "He was very, very determined to go through with this [trial].
"It was very important to him that this would not happen to anyone else. It is testament to his courage."
Mr Ahmed said there were important questions to be asked about the amount of protection his friend was given.
Consular assistance
"It is such a tragic, tragic case," he said.
"Everyone is shell-shocked by it. It was something Mr Iqbal was afraid of and I think the authorities in Pakistan have let down everybody.
"There should have been some kind of security for him."
Mr Ahmed said he was not sure what stage the trial had reached.
A spokeswoman from the Foreign Office said: "We are aware of the death of a British national and are providing consular assistance."
When Mr Iqbal spoke to the BBC last year, following his kidnapping, he warned others not to visit the country.
"I would say to people who have ever considered taking their kids or going themselves to Pakistan, I would say, 'no, never ever think about it because it can happen to anyone'," he said.