Shot PC Sharon Beshenivsky's widower 'helped' by York service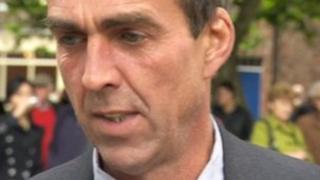 The widower of a murdered police officer said memorial services to remember officers killed on duty "helped" deal with the pain.
Paul Beshenivsky gathered at York Minster on Sunday for the annual National Police Memorial Day service.
His wife, PC Sharon Beshenivsky, was shot during a call-out to investigate a robbery in Morley Street, Bradford in 2005.
"It helps me in a sense that I can speak to people on my own level of what happened," Mr Beshenivsky said.
The service included special dedications to PCs Nicola Hughes and Fiona Bone who were killed whilst on duty in Manchester, earlier this month.
'Brings back a memory'
Mr Beshenivsky said: "I think about Sharon regularly.
"It helps me in a sense that I can speak to people on my own level of what sort of happened. It just helps me.
"It's not an easy day but it brings back a memory that no one forgets. It's very difficult to express your feelings."
PC Beshenivsky had been a police officer for just nine months and became the first female officer in 20 years to be shot dead by a criminal in England and Wales.
Her colleague PC Teresa Milburn, was wounded by a gang of men, who escaped from a travel agent on Morley Street with little more than £5,000.
Two men were later jailed for life for PC Beshenivsky's murder.
'Moment to remember'
Since the death of his wife on 18 November, 2005, Mr Beshenivsky said he has received constant support from West Yorkshire Police.
"If ever I need anything, I've only got to pick up the phone and I know that help is there," he said
Mr Beshenivsky said the service in York provided a moment to "remember".
"The people that come to this event, they all feel, for the likes of me and other family members," he said.
"This event helps me so I hope it helps a lot of others."