Funeral for soldier Thomas Wroe killed in Afghanistan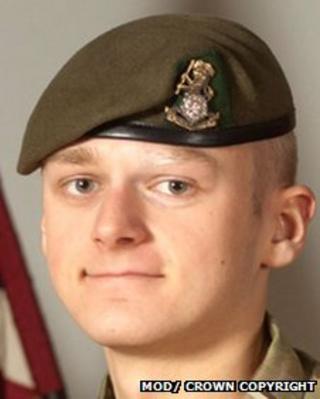 The 14-year-old sister of a soldier killed in Afghanistan has described her brother as "my inspiration, my hero" as she paid tribute at his funeral.
Pte Thomas Wroe, 18, from 3rd Battalion the Yorkshire Regiment, died in Helmand Province on 15 September.
He and Sgt Gareth Thursby were shot by a rogue Afghan policeman who lured them to his side with a fake injury.
Demi Wroe read a eulogy to her brother at his funeral at St Bartholomew's Church in Melthan, near Huddersfield.
She said: "You are my brother, my inspiration, my hero, my role model, my life."
She described her brother as "the brightest star in the sky" and said: "Once a hero, always a hero."
Pte Wroe's father, Mick, led a round of applause in honour of the bravery of all the soldiers who have paid the "ultimate sacrifice".
Guard of honour
Mr Wroe, a former soldier himself, said he did not regret his son joining the Army and praised his "selfless bravery".
He said: "You've done your duty son and done it right to the last."
Hundreds of people stood in the streets outside and listened to the service.
Army cadets lined the road outside the church and veteran standard bearers formed a guard of honour with their flags as the coffin was carried into the churchyard.
The soldier joined the Army in 2010 and was deployed to Afghanistan in July, shortly after his 18th birthday.
His funeral was followed by a private burial at Christ Church in Helme.
The Ministry of Defence said an investigation was under way into the circumstances of the soldiers' deaths.