Arson could 'wipe out' East Leeds ARLFC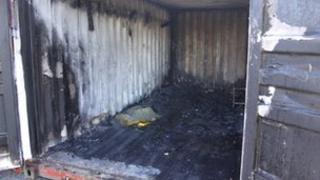 The secretary of an arson-hit West Yorkshire rugby league club has said the blaze could "just wipe us out".
Bev Fanning, secretary of East Leeds ARLFC, said £6,000 pounds of rugby equipment was destroyed in the fire.
She said the club ran on voluntary donations and subscriptions and would now be looking at fund-raising ideas.
Shipping containers storing equipment, and a kitchen area, were damaged in the blaze at Cross Green Lane. It is being investigated as arson said police.
The club runs 14 teams, from the age of eight years old up to its championship-winning adult team, and has around 300 players.
Inspector Jackie Hawkes said the club provided "a positive outlet" and the "completely needless damage" would hurt its work.
Police are appealing for information about the blaze on Saturday night.