Hillsborough officer Sir Norman Bettison 'should stand down'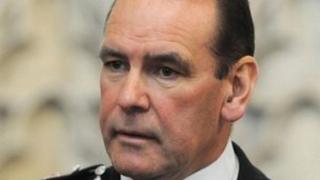 Candidates bidding to be West Yorkshire's new Police and Crime Commissioner have called for the county's chief constable to stand down.
Two of the four people up for the role said Sir Norman Bettison should go now, rather than retire as planned in March.
Their comments follow the latest allegations made about Sir Norman's role in the aftermath of the Hillsborough disaster.
Sir Norman has refused to comment but has always denied any wrongdoing.
In the Commons on Monday shadow transport secretary Maria Eagle - a Merseyside MP - said Sir Norman attempted to "fit-up" Liverpool football fans after the Hillsborough disaster.
'Nothing to hide'
At the time of the tragedy Sir Norman was a South Yorkshire Police inspector who attended the match as a spectator and later took part in an internal inquiry.
Earlier this month he said he would retire on 31 March 2013 to "enable the Independent Police Complaints Commission to fully investigate allegations that have been raised about my integrity".
Sir Norman previously defended his role in the aftermath of the disaster, saying he "never altered a statement nor asked for one to be altered" and he had "absolutely nothing to hide".
Police and Crime Commissioners will be responsible for overseeing police budgets and hiring chief constables.
The West Yorkshire candidates are Labour's Mark Burns-Williamson, Conservative Geraldine Carter, Independent Cedric Christie and Liberal Democrat Andrew Marchington.
Mr Burns-Williamson resigned as chairman of the West Yorkshire Police Authority on 7 October so he could stand in next month's election.
Awkward questions
He said: "I am very clear now that in light of the allegations made last night I think he should go as early as possible. In my view he needs to stand down."
Ms Carter, a former police authority member, said she felt Sir Norman's position was "untenable".
Mr Christie, a former detective inspector who served with West Yorkshire Police for 30 years, said he would want to review all the evidence against Sir Norman before making any decision.
If he was elected he said he would request a meeting with the chief constable and ask some "very awkward questions".
When asked whether he agreed that Sir Norman should resign Mr Marchington, a former police authority member, said: "It's one of the first things I would be dealing with if I am elected... but it needs to be factually based."
A special committee of the West Yorkshire Police Authority will meet on Wednesday to discuss Sir Norman's future.
But Jon Christopher, Chairman of the West Yorkshire Police Federation, said at the moment it is "business as usual" for the force:
"There's nothing been proved against Sir Norman. There's an investigation that's being led, which could take years to come to fruition, and then findings will be made.
"But at this time Sir Norman hasn't been found culpable of anything whatsoever and my thoughts are that he should stay as Chief Constable."