Legal bid to save Leeds child heart sugery 'on hold'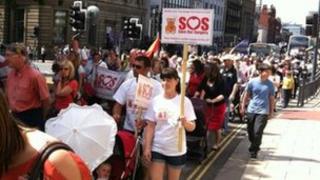 Campaigners have decided to postpone a legal challenge against a decision to end child heart surgery in Leeds.
The NHS recommended in July that Leeds General Infirmary should stop surgery.
The Save Our Surgery (SOS) group said it would postpone seeking a judicial review pending the results of a review ordered by the health secretary.
Sir Neil McKay, chairman of the panel which made the NHS decision, said there was concern that delaying court action could put children's lives at risk.
Last month the SOS group said it had filed for permission for a judicial review against the decision made by the Joint Committee of Primary Care Trusts (JCPCT) to stop surgery at the Leeds unit and others in Leicester and London.
Urgent matter
The Health Secretary Jeremy Hunt later ordered a full review of the plans.
He has asked the Independent Reconfiguration Panel to report its findings by 28 February.
The campaigner's legal respresentatives will request that the action now be put on hold until the review is complete.
In a statement posted on its official Facebook page, the SOS group said: "Save our Surgery is asking the court to wait until the Health Secretary's decision has been made as it is hoped the IRP will deal with the points raised by the judicial review challenge.
"This is the appropriate and right action to take in light of these circumstances and the fact that the Health Secretary has decided that the children's heart surgery provision review process needs to be re-examined.
"We have always made it clear that seeking a judicial review was our last resort option and we would rather avoid court action and the costs associated with it if we can."
In a statement Sir Neil said: "This is a strange development given that it was Save our Surgery that requested the judicial review of our decision in the first place.
"The medical royal colleges and professional associations have welcomed our decision and they have cautioned that further delay will put children's lives at risk. If there is to be a judicial review it should be heard as a matter of urgency."