Bradford leaders head London bid to attract investment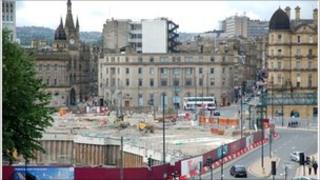 Bradford council leaders have travelled to London to attract new businesses to the city.
The initiative is part of the £35m City Centre Growth Zone announced in early November.
The Labour-run city council hopes the scheme, funded by the government and the council, will create up to 2,800 jobs over the next three to five years.
The growth zone offers companies incentives including rate rebates for helping people get training and jobs.
David Green, leader of Bradford Council, said: "This funding is going to help revive and revitalise Bradford city centre.
"We want to hear from businesses in key sectors including financial, legal, leisure and retail, independent commercial operators, small scale advanced manufacturers, green technologies and creative and digital firms.
"By going to London we are getting our message out far and wide to people to come and invest in Bradford."
Business leaders are also attending the London launch, including the chief executive of Bradford-based Morrison Supermarkets Dalton Phillips, and Peter Miller, the chief operating officer for Westfield's Broadway shopping centre scheme.
Mr Miller said: "There has never been a better time for retailers to invest and open in Bradford."
He also pointed out the potential for businesses moving north with more than six million people living within an hour's drive of Bradford.