Brother of killed soldier David Kirkness joins Army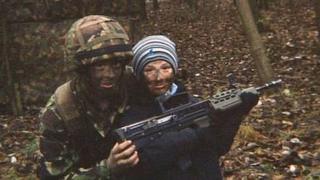 The brother of a soldier killed in Afghanistan has passed out from military college.
L/Cpl David Kirkness, 24, from Morley, West Yorkshire, was serving with The Rifles when he was killed in 2009.
His brother Chris Kirkness, 17, has completed a 12-month course at the Army Foundation College at Harrogate.
Their mother Maggie Kirkness said she was very proud but admitted she had tried to dissuade her youngest son from joining up.
She said: "I've pulled every trick in the book, I've cried, I've shouted, but they know their own mind.
"He does love it, it is what he wants to do. So I have to stand by and be there for him like our David. That's what mums do."
Brother's footsteps
L/Cpl Kirkness, from 3rd Battalion The Rifles, was one of two soldiers killed while preventing two Taliban suicide bombers from blowing up an Afghan market place packed with civilians.
Chris said his brother had been like a father to him and would have been very proud of him joining the Army.
Mrs Kirkness said she had great respect for the soldiers who were serving in Afghanistan and that she always knew Chris would follow in his brother's footsteps.
"From being kids they always had army gear on. So it isn't a shock for me. It is what he has always wanted to do," she said.
Junior soldiers at the college in North Yorkshire take a 12-month course in a combination of military skills and vocational qualifications.
After graduation, they move on to receive further training in their chosen trade or specialism.