Former West Yorkshire DJ warns others about using ketamine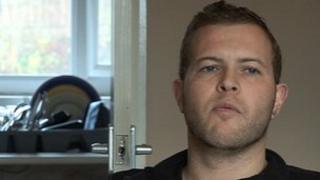 A former DJ who said he had "lost everything" through using ketamine is warning others about the health effects of using the drug.
Kevin Walker has suffered a cardiac arrest and has been hospitalised with severe bladder problems.
His warning comes after reports of a rise in the number of people requiring treatment after taking the drug.
The National Treatment Agency for Substance Abuse said 152 people were hospitalised in Yorkshire last year.
Ketamine is mainly used as an anaesthetic for farm animals.
'Took me away'
It is an illegal class C drug, although the Home Office announced a review of its status earlier this year.
Mr Walker said he started using the drug five years ago following the death of his father and grandfather and at one time was spending £50 a week on it.
He said: "The reason why I got like I did on ketamine, and why I loved it so much, is that it took me away from reality and what had gone on in my life and these losses. It took me away from all that."
Mr Walker ended up in hospital after the drug damaged his bladder, leading to incontinence.
There has been a rise in the number of people needing treatment for Ketamine Bladder Syndrome.
Last month, health officials said there was a new case in Leeds every three to four months. The symptoms include urinating blood and kidney cramps.
Mr Walker's illness saw him hospitalised for four weeks with a catheter inserted into his bladder to allow him to urinate.
While in hospital he lost the flat he was living in.
"I lost everything due to it," he said. "I had no money. I had to sell all my decks. I lost my car to the DVLA - couldn't go back to house I was living in as I made such a mess of my room. I walked the streets of Leeds for six days."
Heart stopped
After a spell in a homeless centre he returned to his childhood home of Batley.
He still took ketamine, and had to be taken to hospital in an ambulance after being found collapsed in a park in the town.
His heart stopped and he had to be revived in hospital.
Mr Walker said the incident finally made him give up drugs and enrol in a support group.
"If anybody dies, if you are fortunate enough to be brought back to life it does open your eyes a lot.
"It makes you realise how lucky you are to be here."
He said he carried in his wallet a printout from the hospital cardiac monitor showing the flatline trace of his stopped heart as a reminder of how lucky he was to survive.