Bradford City fan's Australia to Wembley plea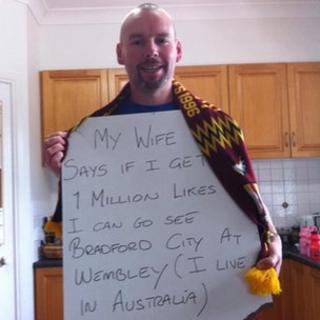 A man who began a Facebook campaign to convince his wife to let him fly across the world to watch Bradford City at Wembley says he is nearing his goal.
David Bowers hopes to travel 10,000 miles (16,090 km) from his home in Melbourne, Australia, to see the Bantams in February's League Cup final.
He posted a photograph on the social network, saying his wife would let him go if it attracted one million "likes".
By Wednesday morning he had achieved more than 900,000.
Mr Bowers, originally from West Yorkshire, said he was surprised at how successful his appeal had been. He is now trying to organise flights and time off work.
He told BBC Radio Leeds: "I think the biggest obstacle now is making sure I can actually get the time off work.
'Magic threesome'
"Win, lose or draw it will be a point of history, we are reaching a cup final from the level we are at."
Mr Bowers's wife Trudy said she would stick to her promise and allow him to go to the match.
She said: "It coincides with his sister finishing cancer treatment and his mother's birthday as well so it's the magic threesome so it's got to be done.
"With a fourth division team coming up to Wembley it's a pretty big thing so it would be pretty sad if he missed out, that's for sure."
Tickets for the match against Swansea on 24 February went on sale to season ticket holders earlier.
In his Facebook post, Mr Bowers wrote: "I'm originally from Bradford and now live in Melbourne, Australia, but I have been a city fan for as long as i can remember, please help me get to Wembley just like our awesome BRADFORD CITY!!!!!
"After reading so many comments regarding 'save my money Swansea are going to win', this is not about getting to Wembley to see Bradford City win, but more for the fact that in years to come I will be able to look back and say I was there when Bradford went to a CUP FINAL."
Mr Bowers said his appeal had received nearly 900,000 'likes' across three different links on the social network, as well as offers of financial help from fellow fans.