Bradford One In A Million free school deal signed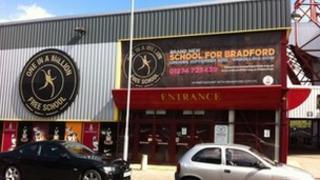 A Bradford free school will open in September, a year later than originally planned, it has been confirmed.
The Department for Education has signed a funding agreement which means the One in a Million Free School can take its first pupils on 2 September.
The secondary school had been due to open last September but funding was withdrawn because it had failed to attract enough pupils.
The charity behind the school said it was delighted.
The school will be located close to Bradford City's ground, in the former Bradford City shop and Bantams Business Centre at Valley Parade.
Community confidence
Matthew Band, chief executive of One In A Million, said: "We want to give children the opportunity to succeed. We will be a small school with small class sizes, with students taught by great teachers, underpinned by good discipline.
"The football club works with us as a community partner. As a school that will have a focus on sport and enterprise, that is fantastic - the sport speaks for itself and there is every job you can think of at the stadium.
"We have come a long way since last year and can now look forward to opening later this year."
The school said it would open with a full first year of more than 50 students and there had been more than 180 expressions of interest in those places.
A spokesman for the Department for Education said: "The school's proposers and staff have shown great commitment and energy, and have made great progress since first being approved in 2011.
"The number of parents applying for places demonstrates the confidence the community has in them, and the school."