High Court legal bid to save Leeds child heart surgery continues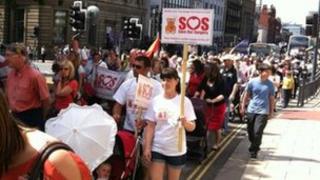 A High Court bid to overturn a decision to end child heart surgery in Leeds will go into a third day.
The Save Our Surgery group is seeking a judicial review of an NHS plan to stop operations in Leeds so care can be concentrated at fewer, larger sites.
The group claims the consultation process was unfair and legally flawed.
The NHS body which made the decision defended itself during Tuesday's hearing. A third day of submissions will now be heard on 18 February.
The Save Our Surgery (SOS) challenge follows a ruling by the Joint Committee of Primary Care Trusts (JCPCT) that children's heart units at Leeds General Infirmary, Leicester's Glenfield Hospital and London's Royal Brompton should stop surgery.
Consultation 'fair'
If the plan goes ahead children who would have gone to Leeds will instead have to travel to Newcastle or Liverpool.
As part of the review process, each hospital was visited by a panel of experts and given a score based on its performance.
The SOS legal challenge centres on how those scores were worked out and the level of scrutiny they were subjected to.
The group previously told the court the JCPCT had produced "sub-scores" measuring the quality of service under various criteria but had not disclosed them to consultees.
The result of this was centres were "shooting in the dark" when it came to consultation, the court heard.
Dinah Rose QC, appearing for the JCPCT, told the court the suggestion the sub-scores were the key to understanding the assessments was "wrong".
After Tuesday's hearing, Sir Neil McKay, chairman of the JCPCT said: "If we want to save more children's lives and reduce complications such as brain damage, we believe it's the right decision for the country.
"We believe that the consultation was transparent, fair and lawful however I do not deny citizens' right to challenge NHS decision makers when appropriate to do so and we have defended the very detailed process in the High Court.
"The High Court has now heard Save Our Surgery's case and our robust defence."