Horsemeat arrests: Todmorden slaughterhouse man bailed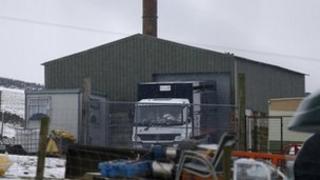 A West Yorkshire man held by officers investigating the alleged mislabelling of horsemeat has been bailed.
The 63-year-old was arrested on suspicion of offences under the Fraud Act at Peter Boddy Licensed Slaughterhouse in Todmorden.
He was questioned in Wales along with two men from Farmbox Meats, near Aberystwyth, who were arrested on suspicion of the same offence.
Both Farmbox Meats and the Todmorden slaughterhouse deny any wrongdoing.
The men from Farmbox Meats will answer bail in Aberystwyth at a later date, police said.