Subhan Anwar: Two men in court over child killer murder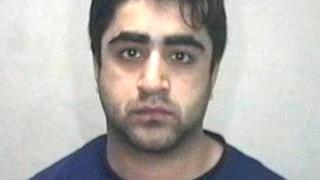 Two men have appeared in court via video-link charged with murdering a child killer at a top security jail.
Gary David Smith, 47, and Lee William Newell, 44, are accused of killing Subhan Anwar, who was found dead by staff at HMP Long Lartin on Thursday.
Anwar was jailed for life in 2009 for the murder of two-year-old Sanam Navsarka, of Huddersfield.
Both men were remanded in custody at Worcester Crown Court and are due to appear again on 7 May.
The pair have been moved from Long Lartin to separate jails in south east England and appeared in court via a split-screen television link.
Anwar was given a minimum 23-year sentence for the killing in 2008 of Sanam Navsarka.
His partner, Zahbeena Navsarka, was cleared of her daughter's murder but found guilty of manslaughter and jailed for nine years.
Bradford Crown Court heard that the toddler suffered 107 injuries at Anwar's hands.
During a month-long ordeal a metal pole was used to shatter the child's leg. She died with fractures to all her limbs.