Bradford City's club chaplain prays for players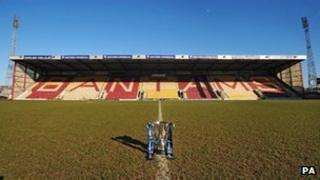 Bradford City's club chaplain says he has prayed for the team but not for a victory in the League Cup final.
The Reverend Paul Deo said he considered asking God for a win was not "great form".
Mr Deo, who also works as the club's stadium announcer, is one of thousands of Bantams fans who have headed south for the League Cup final against Swansea City.
The club is first from the fourth tier ever to reach a major Wembley final.
Mr Deo said the club's achievements had united the city.
"This cup run has just lifted absolutely everybody at the club and beyond," he said.
"I'm even talking to Leeds United fans who are giving us all the best for the game. It's just captured everybody's imagination."
'Listening ear'
He has been the club's chaplain for four years and said his main job was providing support to staff and players.
"It's very much an up and down world for all those who involved, whether they be on the field or not," he said.
"I think my role as chaplain is simply just to be there to offer a bit of a listening ear."
Mr Deo said despite the occasion he had witnessed no anxiety among the squad.
"The players are really up for this, they know all the way through this run they have absolutely nothing to lose and everything to gain.
"I've prayed for them today, but I haven't prayed for a win. I don't think it's great form to pray for a win.
"I've prayed that they overcome their nerves and do their best."
Bradford have beaten three Premier League sides to reach the final. They beat Wigan Athletic on penalties in the fourth round, Arsenal, also on penalties, in the last eight, and Aston Villa over two legs in the semi-final.
The only time a fourth-tier club have previously reached the final of either the League Cup of the FA Cup was in 1962 when Rochdale lost in the League Cup final to Norwich City. In those days the final was not staged at Wembley.