Bridgewater Place apology over HS2 warning letter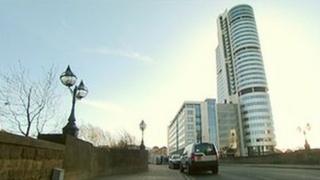 Letters warning residents of a Leeds tower block they could lose their homes due to the proposed HS2 route were sent by mistake, developers have admitted.
The letters were sent to 250 occupants of the 32-storey Bridgewater Place.
The land on the city centre site was "at risk of being required for construction", the letters said.
Developers HS2 said Bridgewater Place was not now believed to be required for the route and apologised for any confusion the original letters caused.
The letters, signed by transport minister Simon Burns, were sent to Bridgewater Place residents at the end of January.
They said land and buildings on the site "could eventually be subject to a compulsory purchase order" should the initial planned route be approved after public consultation.
'Quite some mistake'
In a statement, a spokesman for HS2 said: "We have since identified a small number of properties we contacted near the proposed station in Leeds that we currently believe would not be required for the construction of HS2.
"We have written to the owners of these properties to clarify the position and apologise for any confusion caused.
"No decision on the northern route will be taken until after the completion of public consultation, which begins later this year."
David Matthews, a landlord owning a flat in the building, said: "If it is a mistake, it's quite some mistake."
He also said he had not yet received the second clarifying letter.
The recently announced HS2 route from Birmingham would take trains through Woodlesford and Hunslet before reaching a new station in Leeds near Bridgewater Place.
The Bridgewater Place building, on Neville Street by the River Aire, is 367ft (112m) high and was completed in late 2007.