Huddersfield soldier Wilson 'over drink-drive limit'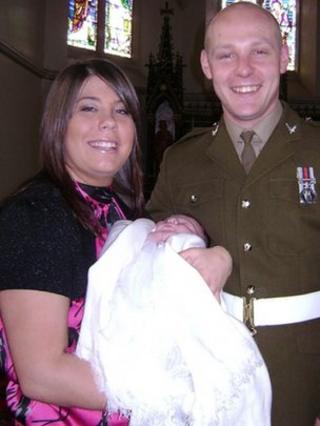 A soldier who died in a shooting incident at an airbase in Iraq would have been almost three times over the drink-drive limit, an inquest heard.
L/Cpl David Wilson, 27, of Huddersfield, West Yorkshire, died at the Basra airbase in December 2008.
He was found slumped over a desk the morning after an illicit drinking session, the coroner heard.
At the time, the Ministry of Defence (MoD) said L/Cpl Wilson was not attacked by enemy forces.
The MoD also said there was "no evidence to suggest anyone else was involved".
Tests afterwards had showed L/Cpl Wilson had 229mg of alcohol per 100ml of blood in his system. The drink-drive limit is 80mg.
Forensic pathologist Nicholas Hunt told the inquest in Crook, County Durham, the gunshot passed from above the right temple, back through the brain and out of the left side towards the back of the head.
The pistol muzzle was pressed against the skull ruling out the possibility of fatal injury being caused by a ricochet from a shot fired by accident, Mr Hunt said.
At the inquest William Boyce QC, who was representing the family, produced the black Browning 9mm firearm L/Cpl Wilson apparently used to shoot himself, after it was checked by an expert.
In an extraordinary scene, Mr Boyce demonstrated that the angle of the round's trajectory meant the weapon must have been pointed at an awkward angle for someone intending to shoot himself.
Friends had said L/Cpl Wilson, who was from Spennymoor, County Durham, had "everything to live for" having seen his daughter Poppy born 11 weeks before he died.
Witnesses had said that a soldier told them at the wake "something happened that shouldn't have happened" while four of them were drinking.
Alcohol was only allowed at rare, formal functions and, even then, soldiers were limited to drinking two cans of beer, the inquest heard.
The inquest continues.