Huddersfield soldier's inquest records open verdict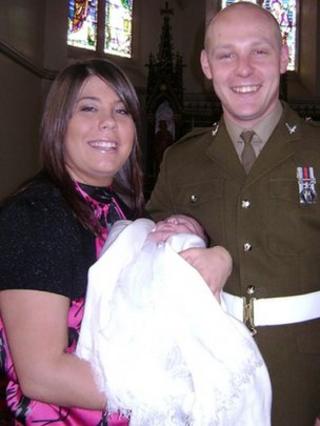 A British soldier who died in a drunken shooting incident while serving at an air base in Iraq lost his perception of risk, a coroner has ruled.
L/Cpl David Wilson, 27, died at the Basra airbase in December 2008.
The inquest heard he had been drinking heavily the night before he was found slumped at a desk.
His family do not believe he shot himself and think horseplay or an accident could have been the cause. The coroner recorded an open verdict.
The Ministry of Defence (MoD) said there was "no evidence to suggest anyone else was involved".
Coroner Andrew Tweddle found the soldier fired the fatal shot himself, and that the gun did not go off because of a malfunction.
He said he would have to be sure the soldier intended to kill himself to return a suicide verdict.
The coroner also ruled that L/Cpl Wilson "was intoxicated and this would have had an effect on his decision-making ability and perception of risk".
The inquest at Crook Coroner's Court, County Durham was told how military police investigators botched elements of the inquiry, meaning a full picture of what happened that night has been obscured.
'Flawed process'
Mr Tweddle said he had written to the Prime Minister in November 2011 because he was so concerned about the lack of progress in the case.
Concerns about handling forensic evidence were raised during the case. William Boyce QC, representing the family, described elements of the inquiry as "a circus".
Huddersfield-born L/Cpl Wilson, from Spennymoor, County Durham, had been drinking vodka, which was in breach of army rules, with his friend and superior Warrant Officer Tony Todd in the hours before he died.
Tests after his death showed he was three times over the drink-drive limit.
His father Ian Wilson told the hearing that he was "meticulous" about weapon safety and that he did not believe his son had committed suicide.
After the hearing, L/Cpl Wilson's brother Michael said the family had been wronged by the "flawed process" of the military inquiry.
In a statement, he said: "David was a wonderful young man. He was a loving and devoted fiancé, father, a wonderful son and my identical twin brother.
"This inquiry has shown all how David was and all that he had to live for."