Leeds casino jobs at risk as Clarence Dock venue closes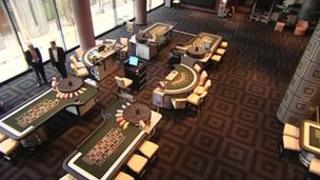 A Leeds casino which employs 99 people has closed, with bosses blaming trading conditions at the waterside development where it is based.
London Clubs International (LCI) said current conditions at Clarence Dock made the closure of Alea Leeds "inevitable".
It said a redundancy consultation with the casino's employees had begun.
LCI also announced its withdrawal from the licensing process for a large casino in the city.
'Great regret'
Leeds is one of eight local authorities in England with powers to grant a large casino licence.
Clarence Dock was one of three sites being considered for the large venue.
Roy Ramm, LCI's governance and public affairs director, said it was with "great regret" that the company was suspending its casino business in the city.
The location was primarily to blame for the closure, he said: "The trading positions here are awful, you look out the window and there is nobody walking past.
"This place is disconnected from the city centre and that's been a major cause of the closure of this business."
Property firm Allied London bought the 150-year lease to Clarence Dock last year.
The company announced plans to revamp the ailing development, including the creation of a new shopping, food and cafe street and a "workspace hub" for the creative and digital industries.
The firm has not yet responded.