Bradford council's £2 bid for Odeon and police station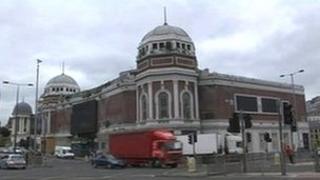 A former cinema and police station in Bradford could be transferred to the city council for £2 - if the government stumps up £4.1m maintenance cash.
The council has proposed to take on the buildings from their current owner, the Homes and Communities Agency (HCA).
The deal would be dependent on the HCA contributing £4.1m towards "essential health and safety" works.
The HCA had proposed to sell the Odeon for £1 without the extra funding. It said it was considering the new offer.
The council's executive board will be asked to agree to the proposal at a meeting next week.
Odeon plans
The Odeon opened as the New Victoria cinema and theatre in 1930 and closed in 2000.
Plans to demolish the building were scrapped in September after the HCA terminated an agreement with developers Langtree Artisan.
Several ideas for the future of the building have been put forward since then, including turning it into a cultural arts centre or a music venue.
The Tyrls police station opened in 1974 and closed in 2008. The building has already been partially demolished.