Holbeck's landmark towers in transfer deal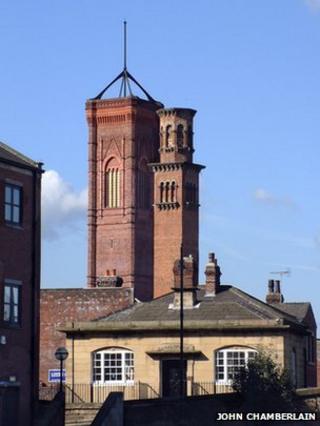 The ownership of four listed buildings, including eye-catching Italianate towers, could be transferred to Leeds City council.
The plan is to transfer the Giotto Tower, Verona Tower, Little Chimney and the Engine House in Holbeck Urban Village into a trust.
The buildings are currently owned by the Homes and Community Agency (HCA).
Councillor Richard Lewis said the buildings were "important parts of the Leeds skyline".
The prospective deal is dependant on money being paid by the HCA to the trust after a specialist, technical assessment of the historic industrial buildings at Tower Works, the council said.
'Very eye-catching'
Kevin Grady, of Leeds Civic Trust, said: "I think it's a very good move.
"The combination of towers is really very eye-catching. It makes the area a must-see."
He added that the towers were in good condition, had no function, but were important to the aesthetic of the Holbeck area.
The towers served as chimneys for the manufacturing works.
The tallest and most ornate tower is based on a bell tower in Florence by Giotto, the smaller octagonal tower is based on a tower in Verona and the smallest tower represents a Tuscan tower as seen in San Samignano.
'Parts of skyline'
By transferring the buildings with funding it is hoped to aid development of the Tower Works and create economic growth and jobs, the council said.
Mr Lewis, executive member of the council, said: "Securing funding would also help ensure that these listed buildings are maintained as important parts of the Leeds skyline."
The regional development agency acquired the site in 2005, but it was transferred to the HCA when Yorkshire Forward was abolished.
The proposal is to be discussed at a meeting of the council's executive board next Wednesday.