Woman's house fire death caused by overloaded plug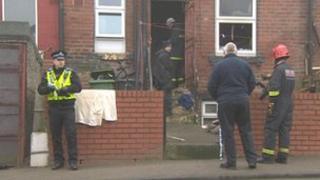 A house fire in Leeds in which a woman in her 60s died was caused by an overloaded electrical extension plug, West Yorkshire Fire Service has said.
Emergency services were called to the house in Brownhill Crescent, Harehills, at about 01:25 GMT on Wednesday.
Firefighters found the unconscious woman, who died shortly afterwards.
The blaze was started by a damaged four-way extension adaptor which was connected to 13 pieces of electrical equipment, investigators concluded.
Three lamps, two televisions, a coffee warmer, a hand-held vacuum, a convector heater, a melted plastic appliance which could not be identified and four four-gang extension sockets were all operating from just one wall socket, investigators discovered.
Ian Bitcon, from West Yorkshire Fire Service, said: "We sincerely hope that this will act as a warning to others to make sure they check extension adaptors are in good working order and not overloaded."