Lingerie boss Anthony Power killed for Bentley 'pride and joy'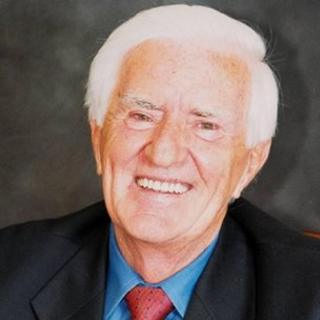 A successful lingerie firm owner was killed for the luxury car he bought on his retirement as a reward "for years of hard work", his son has said.
Anthony Power, 78, was beaten to death in a park in Sheffield by a man who then took the keys to his Bentley Continental.
His attacker, Imran Khan, has been jailed for life for the murder, described by a judge as "truly awful".
Mr Power had gone to the park to look for his missing brother Thomas, who suffers from dementia.
He was found by police lying on the ground covered in blood and died in hospital nearly three weeks later.
Enjoying retirement
His death followed a career in the underwear business after he founded Panache Lingerie more than 30 years ago.
The company, which is still family-run in Sheffield, is now a global manufacturer with 200 employees and offices in New York, Germany and Hong Kong.
John Power, who is now joint chairman of the business, said his father was "never frivolous or ostentatious with money", but decided on his retirement to buy himself the Bentley.
He said: "This to him was the pinnacle of all he had achieved. He had always wanted to own a prestige car and felt that this was his reward for years of hard work.
"The car, with its private number plate, was my dad's pride and joy and for him was a physical representation of his success. He and mum would go for a drive in it most days, out to lunch or to the countryside, enjoying their retirement together.
"After dad's death we couldn't bear the sight of the car."
'Liked and admired'
Anthony Power was born to a very poor family in Southern Ireland, his son said, and when he first married his wife in 1959 they lived in a caravan as they could not afford a house.
He worked in sales and took a job with lingerie firm Playtex in the 1960s so he could take advantage of their training scheme.
Mr Power said: "He was their top salesman for the following 25 years, so much so that they even told him that they wouldn't promote him any higher as he had set the benchmark for other salesmen to aspire to."
It was in 1982 that he formed his own company, A, J and D Marketing, from the garage at his Sheffield family home, selling clearance underwear.
The company name was changed to Panache in 1987 and its success continued to grow.
Mr Power said his father "achieved incredible success with the business, which really was a 'rags to riches' story".
"He was hugely liked and admired by colleagues and even rivals, and made a point of remaining personal and down to earth with his staff. He knew them all by name, and would ask after their families.
"This has been evident in the hundreds of condolence cards we have received from people all over the world."
Staff at Panache did not have a Christmas party because the void created by Anthony Power's absence "would have been too much to bear", his son said.
The Power family have also struggled to cope with their figurehead's loss.
In a victim impact statement given to the judge at the trial, John Power said his father's murder had a "devastating impact".
He said: "My mum has said it's like waking up from a nightmare and then realising that it's true and I think that is a good description."