Sean Thompson disappearance: Appeal to solve 20-year case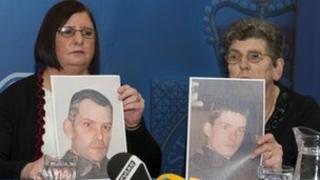 The sister of a man who disappeared nearly 20 years ago has said it is like "he's literally fallen off the face of the earth".
Sean Thompson was last seen leaving his home in Knottingley, West Yorkshire, to go to the job centre.
He was 25-years-old at the time of his disappearance on 18 March 1993.
Police have created an image to show how Mr Thompson could look now and his mother and sister have urged anyone with information to come forward.
At the time Mr Thompson was described as white, about 5ft 10in tall, slim, with a pale complexion, short brown hair and brown eyes.
He suffered from the medical condition metatarsus varus which means he walked on his tip-toes.
'Hope' everyday
Mr Thompson's sister Ruth said: "They always say time's a healer but for us it hasn't been as we have no idea where Sean is, it's like he's literally fallen off the face of the earth.
"We live everyday hoping he will walk back into our lives and we will know he is safe.
"It's been very hard not knowing what's happened to Sean. Dad died not knowing and I know mum doesn't want to be in the same situation.
"If anyone knows where our Sean is please get in contact with the police to put our minds at rest, we just want to know he's safe."
Det Ch Insp Neil Lineham from West Yorkshire Police said: "It is very unusual for someone to not be seen or heard of for this amount of time. Someone will know where Sean is.
"I would like nothing more than to reunite this family with Sean but if there is any reason why this isn't going to be possible I would like Sean to contact the police or the Missing People charity in the strictest of confidence."