Commons questions over parole of Huddersfield arsonist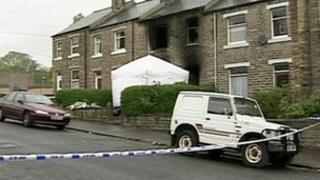 An MP has raised concerns in the House of Commons over the parole of a man jailed for killing eight people in an arson attack on a Huddersfield home.
Local MP Barry Sheerman said that the surviving family members were not told that Nazar Hussain had been released.
Hussain was jailed for 18-years in 2003 for the attack which killed three generations of the Chishti family,
Justice secretary Chris Grayling said he would refer the case to the Victims' Commissioner.
The petrol bomb attack killed five young girls and three adults after fire swept through the terrace house on Osborne Road, Huddersfield, on 12 May 2002.
The victims ranged from the family's grandmother to a six-month-old baby.
'Very aggrieved'
Hussain was found guilty of eight counts of manslaughter and jailed along with two other men.
Huddersfield's Labour MP Barry Sheerman said that the family felt "very aggrieved" at the lack of communication from the Parole Board.
Speaking in the Commons he said: "What sort of justice is it when this decision is not communicated to the family of those eight people who died?"
Justice Secretary Chris Grayling said: "I'm am absolutely clear that it's not acceptable for people who have been the victims of horrible crimes to discover that those who have committed those crimes, having served an appropriate sentence, are on the streets again without them knowing something about it."
Last year the Chishti family took part in a public appeal for information on the whereabouts of Shahid Mohammed, who West Yorkshire Police want to question in connection with the attack.