Kerb-crawlers in Bradford face losing cars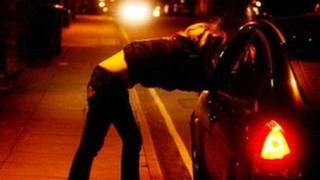 Police in Bradford plan to seize persistent kerb-crawlers' cars in a bid to "break down the cycle of prostitution".
Offenders will be handed warning notices which, if breached, would result in the seizure of their vehicle.
Sgt Tom Casey of the Bradford South Vice Team hopes the approach will deter people from offending.
He said the measure would create an "instant hurdle" for perpetrators and remove the opportunity to reoffend.
The new approach forms part of West Yorkshire Police's Tackling Anti Social Behaviour Together campaign.
Sgt Casey said police would use powers under the Police Reform Act to issue warning notices.
'Clear benefits'
"The act of kerb-crawling, for instance, often walks hand in hand with inconsiderate driving or driving without due care or attention," he said.
"This therefore enables us to issue a warning notice which, if flouted, allows us to seize the occupant's vehicle.
"The benefits of this are clear, as it creates an instant hurdle for the perpetrators and removes the opportunity for them to reoffend.
"By targeting the individuals who create the demand we can begin to break down the cycle of prostitution and the anti-social behaviour which comes with it."
The city's Manningham and Toller Neighbourhood Policing Team (NPT) is also working to tackle kerb-crawling using bluetooth technology.
Officers will send out multiple messages to mobile phones in any given area to encourage people to report kerb-crawling and outline its consequences.