Leeds children's heart surgeon stopped from operating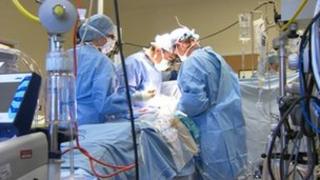 A surgeon at a children's heart unit has been asked by a health trust to stop work over concerns about his work.
It is understood the concerns do not relate to children's heart surgery but to his adult cardiac work.
Leeds Teaching Hospitals NHS Trust said an "assessment" of his practices was under way but it was not about "adverse mortality or morbidity figures".
A review of child heart surgery in the UK is taking place with some units facing closure, including Leeds
'Best practice'
A trust spokesman said: "A surgeon in our paediatric cardiac team has agreed not to carry out operations until we have completed an assessment of aspects of his surgical practice.
"He has been subject to a specific restriction on his practice over a period of time and we review the position on a regular basis.
"This professional review is being carried out within the trust. It is viewed as best practice and is part of running a safe service."
Earlier this week, the Care Quality Commission said it was looking into claims Leeds General Infirmary resisted sending some children to another centre for life-saving surgery.
The trust has strenuously denied those claims.
The spokesman said there was no relation between those claims and the fact that the surgeon had been asked to stop operating.