Children's heart surgery decision quashed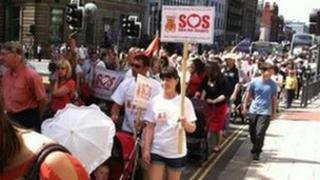 A decision to stop children's heart surgery at Leeds General Infirmary has been quashed by a High Court judge.
The ruling comes after an NHS review said surgery should stop at hospitals in Leeds, Leicester and London to focus care at fewer, larger sites.
Earlier this month, the judge ruled the consultation process which led to the decision was unfair and legally flawed.
The NHS review team said they would study the implications of the ruling, and consider grounds for appeal.
It is not yet clear whether there are implications for the other hospitals.
'Ill-judged'
In July, the Joint Committee of Primary Care Trusts (JCPCT) said children's heart surgery would end at Leeds General Infirmary, Glenfield Hospital in Leicester and London's Royal Brompton, and treatment would instead be concentrated at seven specialist centres.
Those centres would be:
Great Ormond Street, London
Evelina Children's Hospital, London
Newcastle's Freeman Hospital
Birmingham Children's Hospital
Alder Hey, Liverpool
The Royal Children's Hospital, Bristol
Southampton General
Mrs Justice Nicola Davies said aspects of the Leeds consultations were "ill judged", including a failure to make relevant information available to consultees.
It does not mean that the NHS will have to begin the whole consultation process again, as the judge stressed she was only quashing "one part" of the decision.
'Consistently ignored'
The group Save Our Surgery (SOS) has been fighting to keep the Leeds unit open and brought the case to the High Court.
Sharon Cheng from SOS said: "Today's judgement vindicates our decision to pursue this case through the courts.
"We brought this case on behalf of the families and patients of our region whose genuine concerns about the review had been consistently ignored by the NHS."
Sir Neil McKay, chair of the JCPCT, said: "The NHS remains as determined as ever to reconfigure children's heart services.
"The expert view remains that the longer vested interests delay this process, the greater the risk of safety concerns manifesting in the units."
He said a decision would be made in April about what to do next.
Southampton General Hospital moved to reassure families that they would continue to "expand and grow over the coming weeks and months".
Sir Leonard Fenwick, chief executive of the Newcastle upon Tyne Hospitals NHS Trust, said: "Time and money is being wasted."
"Newcastle as a centre with such a comprehensive service portfolio shall be working towards what this is all about - a safe and sustainable service in the national interest," he added.