LGI children's heart surgery data 'sound'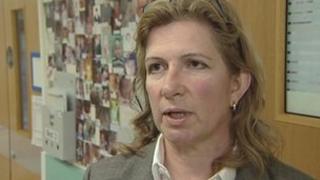 A senior cardiologist at Leeds General Infirmary (LGI) has challenged the grounds that led to the sudden halting of all its children's heart surgery.
Sir Bruce Keogh, chairman of the NHS, said surgery must stop in the Leeds children's unit for a safety review.
He said concerns were raised by cardiologists and the analysis of data which indicated high mortality rates.
But Dr Elspeth Brown said: "There is no problem with death rates in this trust."
Dr Brown, consultant paediatric cardiologist at LGI, said: "We have been looking very carefully at all our data.
"We are very happy that our data is sound."
'Stop attacking us'
She said the data seen by Sir Bruce Keogh was incomplete and should not have been used.
"We need to put this bed, we need people to stop attacking us and we need to resume surgery as soon as possible."
Child heart surgery at LGI was suspended on Friday until a safety review is carried out.
There are concerns about the number of deaths at the hospital, which is at the centre of a long dispute over the future of children's heart services in England and Wales.
But some people questioned the decision and its timing, 24 hours after campaigners trying to keep child heart surgery in Leeds won a legal challenge.
On Wednesday the High Court ruled the consultation over changes to children's heart surgery in England and Wales was flawed.
LGI had been earmarked for closure under the NHS review, which aimed to concentrate children's heart surgery in fewer centres.