West Yorkshire's new chief says force must 'work smarter'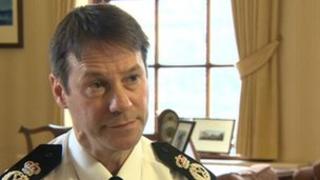 On his first day in the job the new chief constable of West Yorkshire Police has said the force needs to "work smarter" to save money.
Mark Gilmore has replaced Sir Norman Bettison, who resigned last year amid investigations into his conduct following the Hillsborough disaster.
Mr Gilmore said West Yorkshire Police still had a "very strong reputation".
But he said the force's financial situation was "exceptionally challenging".
'Smarter, not harder'
By 2015, West Yorkshire Police will have made savings of around £96m since the 2010 government spending review.
Mr Gilmore told BBC Look North: "In my 30 years (in policing) we've never been in such difficult times as we are currently today.
"But what I'm confident about is that we have some of the most innovative and some of the most experienced and diligent officers and staff who come forward with really good ideas in order to help us balance the budget.
"It's about working smarter and not harder."
Sir Norman Bettison resigned after he was referred to the Independent Police Complaints Commission (IPCC) over allegations that while serving as as an inspector in the South Yorkshire force he provided misleading information after the Hillsborough disaster.
He has always denied being involved in any cover-up.
That investigation is still ongoing, but the police watchdog said last week that had Sir Norman been a serving officer, he would have a "case to answer for gross misconduct".
It said he tried to influence public perception while West Yorkshire Police Authority was deciding whether to refer him to the IPCC.