Benefit changes: Leeds City Council could 'reclassify' bedrooms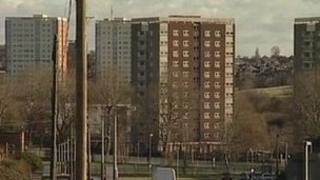 Plans to "reclassify" bedrooms in more than 800 council homes are being considered in Leeds, in response to housing benefit changes.
The council said it was looking at reducing the number of people "penalised for under-occupancy".
Labour councillor Peter Gruen said it was "wholly unreasonable" to reduce tenants' housing benefit when "there are no other properties available".
Changes to the benefit system were introduced on 1 April.
Council tenants with one spare bedroom will lose 14% of their housing benefit, while those with two or more spare bedrooms will lose 25%. The government said this would result in £490m savings for the taxpayer in 2013-14.
Leeds City Council said officers were looking into the possibility of re-designating 398 three-bedroom flats as two-bedroom, 341 five-bedroom houses as four-bedroom, and 126 two-bedroom flats as one-bedroom.
'Vulnerable tenants'
Mr Gruen said: "These properties are being looked at because they fall into the highest percentage of properties are are currently affected by under-occupancy.
"The bedrooms we are looking at reclassifying are really box rooms, store rooms, rooms off living rooms, which we feel able to say are not really functioning as bedrooms."
The authority would not confirm how much it would lose in rent as a result, but Mr Gruen said it would make savings by avoiding the "legal costs and additional staff that come with chasing rent."
A spokesperson for the Department for Work and Pensions said it was up to the council to decide how many bedrooms a property had.
They added: "We are giving councils £150m this year so that they can help their vulnerable tenants."