West Yorkshire flood defence plan to cost £42m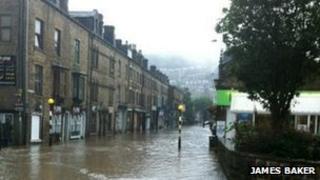 Plans for flood defences in the Calder Valley in West Yorkshire are expected to cost £42m, according to a council report.
The area was badly hit by repeated flooding last summer, which affected more than 900 homes and 250 businesses.
Towns and villages near Hebden Bridge were flooded in June, July and August following heavy rainfall.
Calderdale councillor Barry Collins said the authority would be "pressing the government for support".
Mr Collins, who is the cabinet member for economy and environment, said the council could not afford to pay for the total cost of the plan.
He said: "We've got a big job to do, trying to work with partner agencies and the government in trying to identify that funding.
"Clearly, we wouldn't be able to raise, at a time of major spending cuts, £42m on our own."
The report said the cost of cleaning up the aftermath of the flooding cost £3m, with the council contributing £1.5m.
The area was visited by Prince Charles and Prime Minister David Cameron, who pledged government support for the clean-up.