Ackworth hoard secures £54,500 to stay in Yorkshire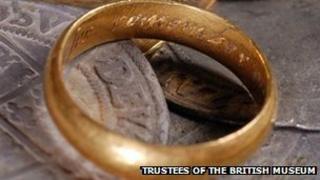 A 350-year-old gold and silver hoard is to stay in Yorkshire after funding was secured to keep it in the region.
The hoard, which consists of 52 gold and 539 silver coins and a gold ring, was discovered in a back garden in Ackworth in July 2011.
It was valued at £54,492 and Wakefield Council managed to raise the money after donations from various groups.
The hoard will be on temporary display at Pontefract Museum until a permanent exhibition can be created.
Councillor David Dagger, cabinet member for culture for Wakefield Council, said: "We are delighted to have secured the hoard for display at Pontefract Museum.
"These items are a real part of this district's rich history."
The items were probably buried for safekeeping around the time of the English Civil War in the 1640s.