Leeds city centre water features turned off for good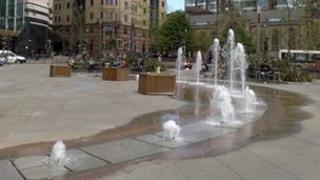 Three water features in Leeds city centre are being turned off permanently because the council said they were "no longer viable".
The fountains in Millennium Square and City Square, which have not been working because of mechanical faults, will be switched off.
The fountains on Eastgate roundabout will be converted to flower beds.
The council said it would require large investment to restore the features into working condition.
The Millennium Square fountains, which have not operated for several years, have now been converted to a planter containing flowers.
Councillor Richard Lewis, executive member for development and economy, said: "Although we have taken this decision, this does not mean that Leeds will become a 'dry' city.
"We recognise that in the past that features have not been as successful as they could or should have been."
He added: "We need to make sure that any future investment in Leeds is done properly."