Leeds council fined for girl's skull injury in park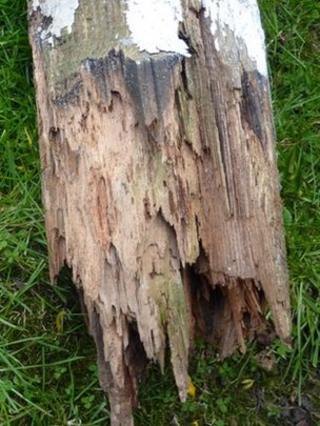 A council has been fined for safety failings which led to a toddler fracturing her skull when an 18ft (5.5m) pole fell and hit her in a park.
The two-year-old was playing in the Leeds City Council-owned Otley Memorial Garden when the rotting wooden pole toppled over in March 2012.
The Health and Safety Executive (HSE) said the council ignored warnings from its own staff that the pole was in a bad state and needed replacing.
The authority was fined £12,000.
Warning repeated
As well as the head injury, the girl suffered a broken foot and was in hospital for a week, said the HSE.
It is believed she will need continuing hospital checks for a number of years.
The HSE said it found that as early as November 2010 the ground's maintenance staff had alerted the council's bereavement service, which manages the garden, to the decaying state of the flagpole.
It said that warning was repeated in 2011 but still no action was taken.
The HSE said later that year a request was made to Otley Town Council to replace the pole but because the council had no responsibility for it nothing was done.
Its investigation found that Leeds City Council had no system in place for recording maintenance requests at the park or acting on issues raised.
Julian Franklin, HSE inspector, said: "This was an 18ft wooden flagpole that toppled without warning in a public garden.
"It is pure luck that this young child wasn't killed."
The council, which admitted breaching the Health and Safety at Work, was also ordered to pay £6,116 in costs.