Halifax Piece Hall traders to move out during restoration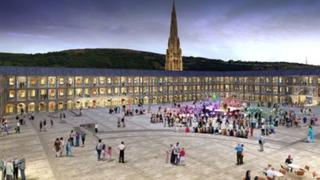 Traders in an 18th Century cloth hall have been told they will have to move out during a £19m refurbishment.
Work to restore Halifax's Piece Hall is due to start in January and is expected to take 18 months.
Calderdale Council said it would help tenants make "alternative arrangements" during the building work.
But some of the hall's 21 shopkeepers said the compensation they have been offered is not enough to keep their businesses going.
Samantha Rayner, of Ace Clothing, said shopkeepers were originally told they would be able to keep trading.
She said: "We were promised that we could stay in the building during the works, and they would phase it."
Discounted rent
Robin Tuddenham, director of communities at Calderdale Council, said: "As the detailed design plans have developed, it is clear that there will be significant disruption of basic services, and constant use of heavy machinery. It would make it very difficult to operate a business during the building works."
The council said discussions about compensation were ongoing, and existing traders would be offered discounted rent as an incentive to return to Piece Hall when it reopens.
But Ms Rayner said it was not enough: "The package that they've put together isn't enough money for me to find a shop in Halifax, the rents are above £20,000 and they've not even given us half of that.
"My business won't be able to continue. Unless I can find alternative accommodation at cheap rent I'll have to close."
Another shopkeeper, Pat Steer from Collect@, said: "To enable us to be able to move this business into a new place so that we can carry on trading, the amount that they've offered is nowhere near enough to enable us to do that."
The Grade I-listed hall, which was built in 1779, is named after the pieces of cloth that were sold there.