Arriva Yorkshire unveils fleet of 'Frankenbuses'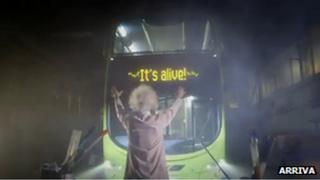 A fleet of 12 hybrid electric double-decker buses dubbed the "Frankenbus" has been introduced in West Yorkshire.
The vehicles are partly powered by diesel and partly by self-generated electricity.
They will operate on the the number 163 and 166 routes between Leeds and Castleford.
The 12 Volvo buses were unveiled in Victoria Garden, Leeds, together with a video called "Frankenbus 'It's alive, it's electric'".
Funding for the vehicles came in part from the government's Green Bus Fund which aims to help bus companies and local authorities in England buy new, lower emission buses.