Temple Newsam new woodland created in Queen's honour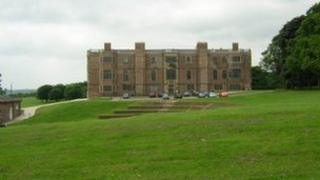 A new woodland has been created at the Temple Newsam estate near Leeds and named in honour of the Queen.
More than 13,000 trees have been planted to make a new seven-acre (three hectare) plantation on the western edge of the council-managed estate.
Named the Queen Elizabeth II Plantation it links Halton Moor Wood to Bell Wood.
It will provide habitats for bats, woodpeckers and roe deer, according to Leeds City Council.
The new planting includes oak, birch, field maple and sweet chestnut together with alder and willow.
The Temple Newsam estate has more than 1,500 acres (600 hectares) of parkland, woodland and farmland including a Tudor-Jacobean mansion.