Leeds heart unit: Government 'had no role in suspension'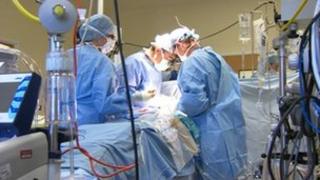 A health minister has said the government played no part in the decision to suspend children's heart surgery at Leeds General Infirmary.
Operations were suspended from 28 March to 10 April, after concerns were raised about mortality figures at the unit.
Earl Howe told the House of Lords the decision was taken by the NHS in Leeds, the Care Quality Commission and NHS medical director Sir Bruce Keogh.
But Lord Shutt said there had been "murky internal health politicking".
Surgery was suspended a day after campaigners in Leeds had won a court case over the proposed closure of the unit.
'No agenda'
The Liberal Democrat peer Lord Shutt asked: "Why is the government determined to deny the people of Yorkshire a children's heart unit when Yorkshire has a population of 5.3 million - similar to Scotland, Denmark and Finland.
"Yorkshire is double the size of the north-east of England, where the government is happy to see that region locally served."
Lord Howe said the premise of Lord Shutt's question was "incorrect", adding: "The government has not taken a role in this matter. This is a matter which the NHS has led.
"There's no agenda by the government at all apart from our desire to see the best possible children's cardiac services provided in this country."
Tory Baroness Eaton said the views of medical experts involved in the Leeds case had sparked concerns over their "impartiality and apparent vested interest" and asked why surgery had not been suspended in other children's heart units in Bristol and Birmingham.
Lord Howe said the decision to suspend surgery in Leeds had been taken because of concerns raised from a variety of sources about the safety of surgery at the unit.
"Those mortality concerns have, I understand, been resolved, which is why low-risk children's cardiac surgery has been resumed at the hospital," he said.