Adrian Duchniak faces eight charges over Crofton bus crash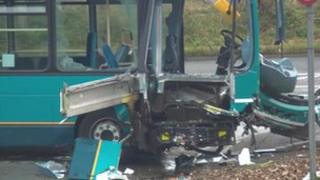 A motorist has been charged with dangerous driving after a crash between a bus and a car in Wakefield which left six people seriously injured.
The collision between a single-decker bus and a blue VW Golf took place on Doncaster Road, Crofton, on 9 November.
Adrian Duchniak, 30, of Ossett, faces four counts of dangerous driving, three of causing grievous bodily harm, and one of driving over the alcohol limit.
Mr Duchniak is expected to appear before magistrates in Wakefield later.
Two air ambulances, five ambulances, three doctors, a rapid response unit and two patient transport vehicles attended the scene after the crash on the A638.
Three adults, including the driver of the bus, were flown to Leeds General Infirmary for treatment.
Three less seriously injured people were taken by ambulance to Pinderfields Hospital in Wakefield.
The remaining wounded were taken to either Pinderfields or Pontefract General Infirmary.