Halifax Ridings School site in community takeover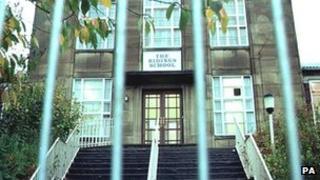 A former school in West Yorkshire once dubbed the worst in Britain is to be taken over by local residents as a "community hub", a council has said.
The Ridings School in Halifax closed in 2009 after years of bad results and has since been secured and maintained by Calderdale Council.
The site is to be handed over to not-for-profit organisation Threeways on Monday, the council said.
Plans for the site include fitness, sport and entertainment facilities.
'Inspired regeneration'
The premises in Ovenden will be handed over to the Threeways organisation on a long-term lease, said the council.
Initial support for the handover was given by the council's cabinet in April 2012, but a detailed business plan for running the site has now been approved, the council said.
As part of the deal, the centre will be run mainly by volunteers.
Barry Collins, cabinet member for economy and environment, said the Threeways project was "an inspired example of community-based regeneration".
"Local people will be right at its heart, running the site themselves for the benefit of the whole north Halifax area."
Colin Davies, chief executive officer at Threeways, said the project aimed to make a real difference to local residents.